About Us
Otter Tail County DFL Party will promote the values of the Democratic Farmer Labor Party, encourage and increase participation in events, recruit and support candidates, and insure that the voices in Otter Tail County are heard in the legislative process. Our vision is to provide organization, support, foster and promote understanding of the issues and ideas contained in the Democratic Party Platform. We will be a vehicle for participation in the Democratic process, which will improve the quality of life in our Community, our State and our Nation.
2018-2020 Otter Tail County Officers
Chair: Michael Windey
Vice Chair: Jane Walker Stock
Outreach: Open Position
Secretary: Ellen Palmer
Treasurer: Diane Windey
Directors:
David Sobieski
Robyne Williams
Chet Nettestad
Cornel Walker
Paulette Nettestad
Richard Kagan
LaRon Adkins
Paul Haarstick
---
News & Media
Get the latest news from our team!
2020 Minnesota DFL Resolutions from the Otter Tail County DFL
Results from the Otter Tail County DFL Convention
The top resolutions that received the 60% of the vote will be sent to the MN DFL party for consolidation, with further discussion and voting at the MN State DFL Convention.
Agriculture & Food
1____ Be it resolved that we support the University of Minnesota's Forever Green Initiative that is developing profitable perennial and winter annual crops that build soil health, clean our water, and sequester carbon; and the long-term base funding of $12 million per biennium.
2____ Be it resolved that science has proven that restorative and sustainable farming practices will help stabilize the climate and nourish our land.
3____  Be it resolved that we call on the Minnesota Legislature and Governor to pass policy supporting severely financially stressed small and mid-sized farmers by covering the origination fees required          when refinancing farm debt and obtaining guaranteed loans through the USDA Farm Service Agency.
4____ Be it resolved that small U.S. farmers will be protected from sanctions imposed on trade farmers.
Business & Community Development
5____ Be it resolved that we support rural arts initiatives.
6____ Be it resolved that as we transition to a clean energy economy, this transition must create living-wage jobs, develop local rural economies, and keep wealth in local communities.
7____ Be it resolved that we support implementation and expansion of the Border-to-Border statewide Broadband Initiative.
Civil, Human & Constitutional Rights
8____ Be it resolved that as we transition to a clean energy economy, we must do so in a way that is fair and just for people of color, indigenous people, low-income communities, farmers, and rural communities.
 9____ Be it resolved that we support the Minnesota Equal Rights Amendment, which reads, "Equality under the law shall not be abridged or denied on account of gender," and will appear on the November 2020 ballot.
10____Be it resolved that we support a Constitutional Amendment to Overturn Citizens United.
14____ Be it resolved that we support all public-school students in Minnesota receiving an equal high quality public education through an equitable funding formula.
15____ Be it resolved that we oppose public money & taxpayer dollars going toward PK-12 schools that are not bound by the same rules of open enrollment, special education services, and teacher qualifications as in public schools.
Government Accountability to the Public
21____ Be it resolved that we support the National Popular Vote Interstate Compact (NPVIC) designed to ensure that the presidential candidate who receives the most votes nationwide is elected president.
22____Be it resolved that the MN State House & Senate agree to hire a non-partisan group to draw new political boundaries for redistricting without applying political population distribution in decision-making.
Health & Human Services
36____ Be it resolved that we support Rep. Betty McCollum's bill, H.R.5598, to protect the Boundary Waters Canoe Area & Voyageur's National Park.
37____ Be it resolved that we support stronger mandatory background checks for gun purchases.
38____ Be it resolved that we support the Ojibwa culture, their lands and waterways, by opposing the construction of a new Enbridge Oil Pipeline 3 and the abandonment of the old Pipeline 3.
RESULTS FROM THE DFL STATE CONVNTION ARE ON LINE AT:  https://www.dfl.org/2020-dfl-state-convention-election-results/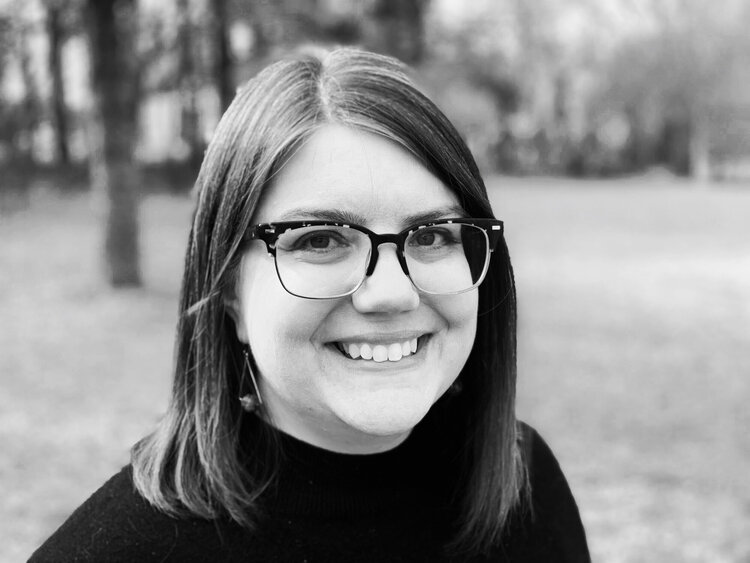 My name is Michele Anderson and I am a Democrat running for Minnesota State Senate, District 8.
I am a fierce rural advocate and a proven leader.
I am joining this race because we can't wait any longer to include more voices in addressing our state's challenges.
I'm doing this because I want to learn and build from what we have in common, rather than what divides us.
And I'm doing this for the next generation. I want to make sure that I do everything I can now to make our children's future brighter.
Working for People from Places We Love
My name is Brittney Johnson and I am running for the Minnesota House of Representatives to bring proactive leadership to the state capitol. The COVID-19 outbreak has shown the importance of leadership during times of crisis.
Unfortunately for the people in our community, COVID-19 is not the only challenge we have faced. We have an affordable healthcare crisis, an affordable housing crisis, and an addiction crisis. All of these challenges have suffered from a lack of leadership in St. Paul.
Minnesotans deserve a legislator who will champion their interests at the capitol. As a legislator, I will advocate tirelessly for the best interests of the Minnesotans who live here.
Otter Tail County is an amazing place to live. The gumption and compassion of our family, friends, and neighbors has made it a destination for people from all over the state. We are not an afterthought. Our leadership should reflect that.
I hope you will join me.

Brittney Johnson

District 8B
MEET CAROL
"I want the folks in District 8B to know that I will work hard for them in St. Paul on the issues that are important to them," Wenner stated in a press release. "I will focus on fair-wage jobs, readily available healthcare, and quality education to train workers for jobs of the future."
Wenner grew up in a large family on a small farm in Swift County, Minn. She worked at Douglas County Hospital before attaining a marketing degree and, later, a business management degree.
While in school, Wenner worked at the Alexandria Lakes Area Chamber of Commerce and served on the Minnesota State Colleges and Universities Board as a student trustee.
More recently, Wenner did fundraising and grant writing for the Knute Nelson Foundation. In December, she began her work at Kids Against Hunger Alexandria, whose mission is to feed starving children around the world.
Wenner and her husband Bruce live in Alexandria and enjoy spending time with their three adult children and two grandchildren. She has been involved with her children's sports and youth group activities throughout the years and continues to serve in her community today.
Wenner is on the administrative team for the Diversity Resource Action Alliance and is a member of the Cultural Inclusiveness Committee. She volunteers for the United Way and Habitat for Humanity and helped get out the vote for the school referendum.
"I am running because I care about our state and our future, and I want people to be able to trust in our government again," she stated. "I believe in an honest government that works for the people with fairness and respect for everyone"
---
Our Upcoming Events
Minnesota DFL Party
What is next for Otter Tail County DFL .
Our unit will hold Otter Tail DFL Central Committee meeting  to Elect Officers and Directors.  If you are interested in running for a position on the Otter Tail County DFL Board or Senate District 8 (chair, vice chair, treasurer, secretary, outreach director, or one of 12 directors, or youth representative (16-25yrs)) please email Mike Windey at windeyottertail.@gmail.com
In Solidarity,
Mike Windey, OTC DFL chair 651.338.3065
Cornel Walker, SD 8 chair 409.795.8183
Otter Tail County DFL will hold a Central Committee Meeting on Saturday, July 11, 2020 from 9:30 am to 12 Noon or until business is finished.  It will be on Zoom.
Proposed Agenda
2020 Otter Tail County DFL
FIRST CENTRAL COMMITTEE MEETING
Saturday, July 11, 2020
9:30 am to 12 noon on Zoom.com
Call to order.
Pledge of Allegiance
Welcome(s).
Resolution of any credentials challenges.
Officials Mike Windey, Chair and Jane Stock, Vice Chair, Ellen Palmer, Secretary and John Minge Parliamentarian.
Officer and Committee reports (attached)
Updates from Campaigns
Michele Anderson
Brittney Johnson
Carol Wenner
Proposed agenda accepted as is; rules and procedures (attached).
Reading of Affirmative Action, Outreach, and Inclusion Statement.
 "The DFL seeks to end discrimination and bigotry in all its forms and to inspire broad participation in our party. As part of our commitment to outreach and inclusion, we will take affirmative steps to increase the participation of members of all underrepresented communities. When you vote today, remember this commitment includes electing members of underrepresented communities to positions both within the DFL party and in public office."
13.  Election of Party Officers:  (proposed officers attached)
Chair.
Vice Chair (not of the same gender identity as the Chair).
Outreach Officer
Secretary
Treasure
One member 16-25 yrs old
Election of State Central Committee Delegate and Alternates.
Election of Otter Tail DFL Executive Committee Directors (range between 8 and 19, with equal division).
Other Business.
Announcements
Adjournment
Otter Tail County DFL Proposed List of Officers and Directors.   
I would like to share with you the list of nomination so far:
Otter Tail County Executive Board
Michael T. Windey for Chair
Jane Stock for Vice Chair
Ellen Palmer for Secretary
Diane Windey for Treasurer
Erin Gerdes for Outreach
Open position for member 16-25 yrs old
Director Positions:
Kelly Widness
Cornel Walker
Robyne Williams
Paul Haarstick
Paulette Nettestad
Chet Nettestad
LaRon Adkins
Robert Lahman
Open Position Female
Open Position Male
Open Position Female
Open Position Male
Organizing Units with more than 2 delegates will elect one member at-large for the State Wide Central Committee.  The Chair and Vice Chair are automatically members when elected to their positions.  Alternates are elected for each delegate, including the Chair and Vice Chair.  This committee meets on a quarterly basis around the State in different locations.
State Wide Central Committee
Chair of Otter Tail County DFL
Vice Chair of Otter Tail County DFL
Open Position Elect One Member at Large to represent Otter Tail County DFL
Alternates to State Wide Central Committee
Cornel Walker
Diane Windey
Open position
ARE THERE ANY MORE NOMINATION
ARE THERE ANY MORE NOMINATION
ARE THERE ANY MORE NOMINATION
TO DEFEAT TRUMP!!!!!!!!!!!!!
Our yearly picnic which was scheduled for Thursday, July 23rd, but due to the Covid-19 it has been postponed until Thursday, September 3, 2020.  Additional information will be posted later.
Our July meeting will be on Monday July 27, 2020 7 pm on Zoom.  We can have up to 100 individuals so if you would like to attend please drop me a note so I can send you the sign in information.  windeyottertail@gmail .com